Ethiopian Orthodox Church
The Ethiopian Orthodox Church is the predominant Orthodox Christian church in Ethiopia. The Ethiopian Church is one of the few pre-colonial Christian churches of Sub-Saharan Africa, the Ethiopian Church has a membership of between 40 and 45 million, the overwhelming majority of whom live in Ethiopia, and is thus the largest of all Oriental Orthodox churches. The Ethiopian Orthodox Tewahedo Church is a founding member of the World Council of Churches.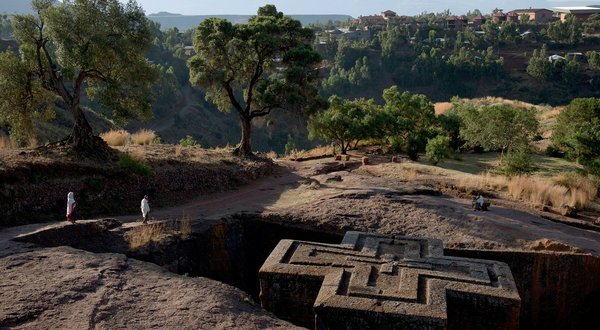 Although Christianity became the official religion of the Aksumite kingdom in the fourth century, the religion had been known in Ethiopia since a much earlier time. In the Acts of the Apostles, VIII: 26-40, we are told of a certain Eunuch, the treasures of Queen Candace of Ethiopia, who went to Jerusalem to worship the God of Israel. There he met Philip the Deacon and was baptized by him. Ethiopian tradition asserts that he returned home and evangelized the people. In his Homily on Pentecost, St. John Chrysostom mentions that the Ethiopians were present in the Holy City on the day of Pentecost. Later, when the Apostles went out to preach the Gospel, Matthew was allotted the task of carrying the good news to Ethiopia, where he suffered martyrdom.
Ethiopian sources, such as the Synaxarium, make no mention of this, however; on the contrary, Ethiopians believe that received Christianity without shedding apostolic blood. Nevertheless, Christianity without certainly known in Ethiopia before the time of Frumentius, being the faith practiced by many of the merchants from the Roman Empire Settled in the Aksumite region. In important cities, such as Axum and Adulis, these Christian merchants had their prayer houses and openly practiced their religion.
As of 2005, there are many Ethiopian Orthodox churches located throughout the United States and other countries to which Ethiopians have migrated (Archbishop Yesehaq 1997). The church claims more than 38 million members in Ethiopia, forming about half the country's population.